Overview
It is important to note that pronation is not wrong or bad for you. In fact, our feet need to pronate and supinate to achieve proper gait. Pronation (rolling inwards) absorbs shock and supination (rolling outwards) propels our feet forward. It is our body?s natural shock-absorbing mechanism. The problem is over-pronation i.e. the pronation movement goes too deep and lasts for too long, which hinders the foot from recovering and supinating. With every step, excess pronation impedes your natural walking pattern, causing an imbalance in the body and consequent excessive wear and tear in joints, muscles and ligaments. Some common complaints associated with over-pronation include Heel Pain and or plantar fasciitis, ball of foot pain, achilles tendonitis, shin splints, knee pain, lower back pain.
Causes
Pronation can occur as an overuse syndrome in active runners, where a great deal of stress is placed on ligaments and tendons that support the medial column. Obesity is another predictor for pronation and deterioration of the medial ligaments and posterior tibial tendon due to excessive stress on these tissues. Acute Trauma can also lead to over-pronation when ligaments are torn or tendon is ruptured. Once again this can lead to a collapse of the medial column. Arthritic conditions involving the knee joint when the joint is in varus (inner collapse) posture, this places the center of gravity over the ankle joint rather than the foot causing undue pressure on the inner ankle.
Symptoms
Overpronation can lead to injuries and pain in the foot, ankle, knee, or hip. Overpronation puts extra stress on all the
bones
in the feet. The repeated stress on the knees, shins, thighs, and pelvis puts additional stress on the muscles, tendons, and ligaments of the lower leg. This can put the knee, hip, and back out of alignment, and it can become very painful.
Diagnosis
To easily get an idea of whether a person overpronates, look at the position and condition of certain structures in the feet and ankles when he/she stands still. When performing weight-bearing activities like walking or running, muscles and other soft tissue structures work to control gravity's effect and ground reaction forces to the joints. If the muscles of the leg, pelvis, and feet are working correctly, then the joints in these areas such as the knees, hips, and ankles will experience less stress. However, if the muscles and other soft tissues are not working efficiently, then structural changes and clues in the feet are visible and indicate habitual overpronation.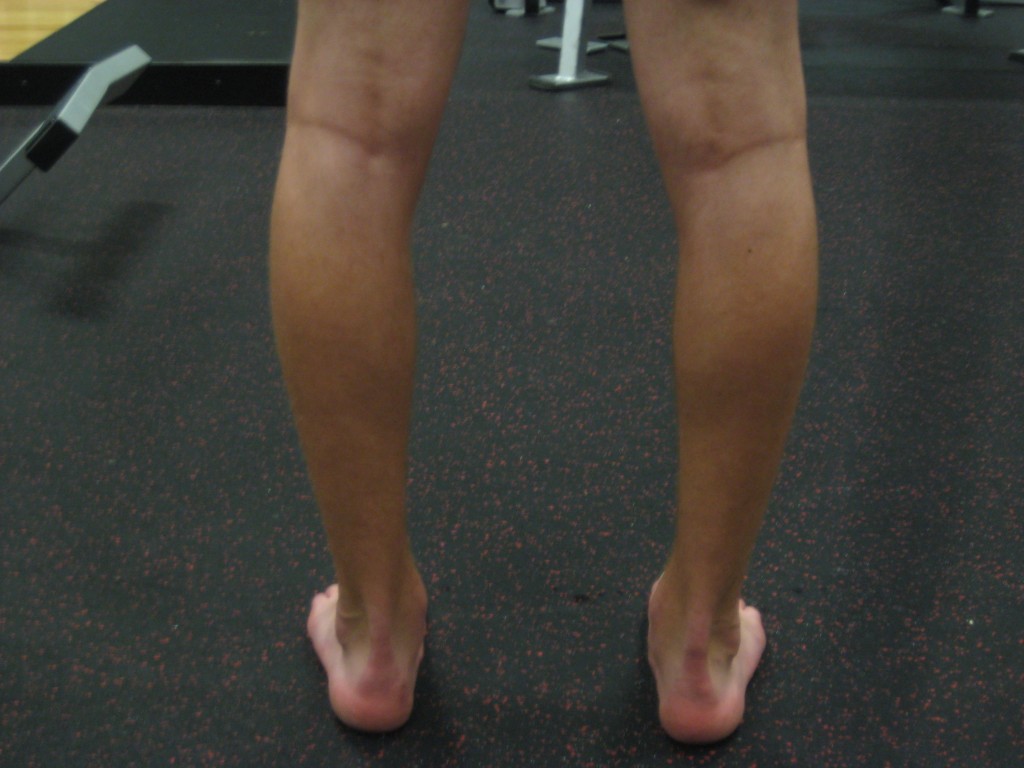 Non Surgical Treatment
Over-Pronation can be treated conservatively (non-surgical treatments) with over-the-counter orthotics. These orthotics should be designed with appropriate arch support and medial rearfoot posting to prevent the over-pronation. Footwear should also be examined to ensure there is a proper fit. Footwear with a firm heel counter is often recommended for extra support and stability. Improper fitting footwear can lead to additional problems of the foot.
Surgical Treatment
Hyperpronation can only be properly corrected by internally stabilizing the ankle bone on the hindfoot
bones
. Several options are available. Extra-Osseous TaloTarsal Stabilization (EOTTS) There are two types of EOTTS procedures. Both are minimally invasive with no cutting or screwing into bone, and therefore have relatively short recovery times. Both are fully reversible should complications arise, such as intolerance to the correction or prolonged pain. However, the risks/benefits and potential candidates vary. Subtalar Arthroereisis. An implant is pushed into the foot to block the excessive motion of the ankle bone. Generally only used in pediatric patients and in combination with other procedures, such as tendon lengthening. Reported removal rates vary from 38% - 100%, depending on manufacturer. HyProCure Implant. A stent is placed into a naturally occurring space between the ankle bone and the heel bone/midfoot bone. The stent realigns the surfaces of the
bones
, allowing normal joint function. Generally tolerated in both pediatric and adult patients, with or without adjunct soft tissue procedures. Reported removal rates, published in scientific journals vary from 1%-6%.